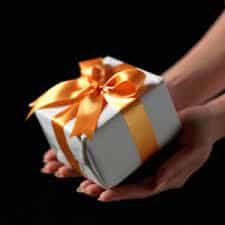 As the calendar year comes to an end, it is a time when it feels natural to reflect on the past. While reflecting I was particularly struck by the unexpected gifts qigong has brought to my life.
Over the years of practicing and teaching, I've become aware that the unexpected gifts of qigong often make themselves known on a very deep level of my being. I'm not referring to the benefits of qigong here, I am focusing on how subtle and perception-transforming gifts arrive through the practice of qigong.
The arrival of these gifts is inextricably linked to paying attention to sensations within my whole being. Qigong practice has provided a path for me to carefully listen to energetic information, feelings, and to become aware of changes in perception that have occurred within me. Listening with full focus and openness creates an expansive inner freedom; a kind of song arises within me. By paying attention to this song I feel reconnected with my true energetic self and find that past perceptions are often no longer important.
How this gift, this expansive freedom and song of myself, manifests in my daily life is the wondrous part. True confidence (a belief in my abilities) is more prevalent. I can trust my life, others, and myself with less concern for the past or future. I can experience myself as I am without messages that I must be different than I am. This gift of careful listening and confidence has grown over the years. It has given me more of an unquestioned courage to more easily navigate the challenges in life.
Of course I still experience challenges, fears, anger, and grief. In fact, I seem to feel these things more deeply but they do not stay with me as long. They are more like clouds on a windy day; moving, transforming and changing color with each moment, and often forgotten in a few hours. I can laugh more easily by seeing the humor in what may have seemed like a disaster in the past. These are profound gifts.
There is a second unexpected gift, a deep sense of gratitude I feel for you, students and fellow practitioners, who have taught me more than I can describe. Every student has brought his or her own wisdom, knowledge, humor, talents, and joy to our classes, workshops and retreats. You have helped bring me awareness of my blind spots. Most importantly you have taught me deeper compassion and the supreme importance of staying open to all possibilities and not becoming attached to a particular outcome. This has been quite freeing and joyful for me. I have very deep respect for all students' efforts and desires in exploring qigong. Thank you.
Some may say that the changes and wisdom I've become aware of are simply the natural process of maturation, that maybe so. However, for others and me it is because qigong practice creates an expansive space to notice and pay attention to changes. Any practice that does this is bound to offer unexpected and welcomed gifts.
Please accept my wholehearted support for you and your own experiences of qigong gifts. You are all important members in our community of qigong practitioners.
Wishing you abundant gifts for 2015.