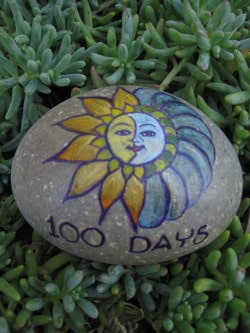 Recently a student asked if I could offer guidance to help support her intention of accomplishing a 100-day Gong. As I wrote her, I thought of several of you who are currently well into a 100-day Gong, so it seemed a good time to expand on my response to her and share it with all of you.
I thought back to the first few Gongs I took on to help me remember what kept me going. A welcome surprise occurred – I came across a journal I had kept of my first 100-day Gong (back in my martial arts days). Back then I made an agreement with myself to do 100 days of continuous practice. Interspersed below are a few excerpts from that journal:
"Day 1: I felt sure I could do this but I wasn't sure I really knew why I was doing it. I thought it might be a way of having an internal adventure."
Before my first Gong, I was skeptical of some information I had read about the benefits of doing a Gong, I wanted to find out for myself what was possible. Mostly though, I deeply wanted to find a way to feel more calm and quiet, more connected to something larger than myself. I wanted to be freer of pain on all levels. I had nothing to lose.
 "Day 8: I get a cold. I'm very frustrated and decide I can't go on. That night I decide to go on, for at least one more day."
I greatly wanted to give myself the gift of the Gong journey, to discover what could possibly await me. My teachers often said: "We don't know what will transform within you during the 100 days, so it helps to go at it with a childlike curiosity. You are on an internal adventure, staying open to whatever that brings. The discoveries will be the gift to yourself." This is the so-called 'secret' of qigong. No one can tell you what it will be like – it is the secret within you: that is for you, and only you, to discover.
"Day 25: I am bored with the 'ego-tripping' stuff I was experiencing. But I begin realizing the value of discipline, of staying focused on arranging my life to include the practice every day. I felt this was a precious opportunity that I could bring into my life every day."
Some days your practice may feel ho-hum. No problem – qi is working no matter what is going on in your head/heart while you practice. Some days may feel like an ecstatic experience with many "ah-ha" moments. My teachers reminded me repeatedly to not be attached to a certain feeling or outcome. What we experienced before is in the past. We are here to create each moment, in the present.
"Day 30:  I'm told that there is something magic about 100 days of practice. Ninety-six days is not the same as 100. I ponder this for a few days. Eventually I decide the numbers don't matter and go on. Physical pain is melting away as energy flows more freely through limbs, channels and organs."
I suggest three things to help support your intention to complete a Gong: 1) attend classes when you can or find others to practice with, 2) connect with your teacher or fellow practitioners by visualizing their smiling faces or visualize and connect with masters/teachers from any tradition that inspires you, and 3) honor and accept where you are with minimal, if any, judgment. There may be some days when it feels impossible to practice. That's OK – remember your intention and do the best you can. Each day and each practice is so precious and a true gift, as you will come to discover.
"Day 50: I feel like I am on a mesa just rolling along on an even surface. I am going on."
Pay attention to and remember the changes that are occurring and stabilizing during your Gong. It is a valuable and significant way to empower yourself. What was my life like pre-gong? How did I feel then and now? Has the way I experience emotions changed, and do I perceive the inside and outside worlds in a different way? I encourage you all to make this kind of exploration/review as a way of honoring your efforts and as a way of realizing on an even deeper level what has occurred.
Keeping a journal about your Gong is another way to integrate and stabilize the changes that are occurring during your adventure. It is important to remember, enjoy and understand how we see the world and ourselves, then and now. I feel I can guarantee that you will feel different by the end of your Gong. I have experienced it not only in myself, but I've seen it every student who has earnestly completed a Gong.
"Day 65: Energy is flowing. My body is stronger, more flexible and receptive. I discover that if I relax the soles of my feet, energy can flow from the ground up through my body. Most days, practice transforms into an internal joy-fest! I'm sure I never want to stop doing this . . ."
Daily review of your intention will help anchor your practice. Choose an intention that will help lead you to gratitude for giving yourself this profound gift. During a Gong, you are making this practice your own. It can never be taken away – claim it!
"Day 80: I don't want to go on. I'm tired of this. I go on anyway. The joy of unifying my body, mind and spirit returns. I end by thanking myself for practicing today."
You are invited to share your Gong experiences. Sharing your experience in this supportive community will help us all understand more fully the unlimited possibilities for happiness, health and true inner freedom.
"Day 100: Started out feeling ho-hum during practice. This evolved into a very powerful gratitude experience. It wasn't that hard to complete the Gong after all. I ended with feeling that I got much, much more than I gave."
Ultimately, the Gong never ends. For this I continue to be grateful. Wishing you all abundant blessings on your journey.