Elfin Forest Qigong Studio

October 1, 2022

Saturday, 9:00 AM to 10:30 AM
Registration Details
$15
Foundations of QG x 1 10 remaining
$30
Foundations of QG x 2 11 remaining
Sorry, Event Passed
In-Person Classes: Foundations of Qigong
Elfin Forest Qigong Studio
Saturday, 9:00 AM to 10:30 AM
October 1, 2022
In-Person Classes: Foundations of Qigong
Elfin Forest Qigong Studio
Saturday, 9:00 AM to 10:30 AM
October 1, 2022
PRINT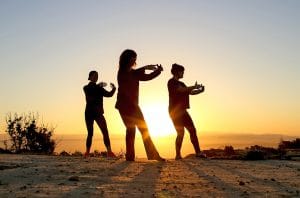 Saturday, October 1 and Saturday, Oct 15 • 9:00am – 10:30am  PT
Maximum of 12 attendees. Classes will be held at the Elfin Forest Qigong Studio outside under the oak trees.
Everyone welcome. New students encouraged to attend.
For returning students these classes will be beneficial in revisiting how our qigong journey started and how we can rediscover our beginner's mind.
For new friends these classes will be invaluable in creating a stable foundation to launch you on your qigong journey.
Directions emailed the day before the workshop.