Date: October 29, 2017 - November 4, 2017
Time: All Day
Location: Kealakekua Bay
Kahauloa Street, Captain Cook, Hawaii 96704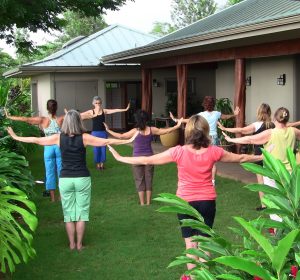 Kama'aina (commuter) Students: Retreat begins on Monday, Oct 30, 2017 at noon. We will end after lunch on Friday, Nov 3, 2017. 
Residential Retreat Students: If you would like to attend, please contact us to be placed on waiting list. If you are coming from the mainland or neighbor islands, please plan to arrive in Kailua-Kona (KOA) on Sunday, Oct 29. Departure flight is best on Saturday, Nov 4, 2017. Please contact us if you would like more information on flights.
You are invited to join us on the shores of Kelakekua Bay, Hawaii for 6 nights in a beautiful tropical home, where we will enjoy 5 days of qigong training, practice and healing. The retreat will be held in 2 beautiful, private homes located 300 feet from Manini Beach, private rooms with private baths, with limited shared rooms available.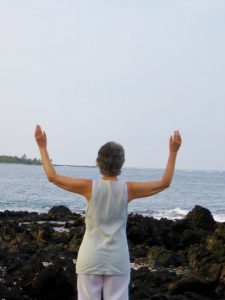 There will be time for resting, swimming, exploring the area and just being in a special tropical paradise. In addition to all that Kealakekua Bay has to offer, there are several other magical places to visit nearby such as Pu'uhonuaO Honaunau National Historical Park, "Two-Step" for fabulous snorkeling, coffee farms and more.
During this retreat we will co-create an expanded space for experiencing and integrating wellness on the physical, mental, emotional and spiritual levels.  Through deep group practice and relaxation sessions over several consecutive days, we will amplify the subtle movement of qi within, thereby supporting each other in transforming all energy systems and connecting with your source of vitality.
 Retreat Includes:
Six nights accommodations in beautiful tropical homes
Five days of in-depth qigong training
Daily group wellness sessions
Delicious, hearty catered meals – organic, local, gluten-free
Enjoying nearby beaches and parks
Beach park access one block for swimming and snorkeling
"A wonderful opportunity to experience qigong, focus on practicing, share space with amazing people and soak up some of Mother Nature's finest." V.R., AZ
We will start each morning practicing at the water's edge, connecting with the earth, sky and ocean. Our indoor practice spaces are graced with beauty, comfort and soothing tropical breezes. Each afternoon will be highlighted with time for a refreshing swim or snorkeling in the bay.
Our healthy and delicious meals will be prepared by the Zen Kitchen using the best ingredients from the Big Island. Massage can be requested in the onsite "Bali Hut" and include Hawaiian Lomi Lomi style.
Read more comments about past Qigong in Paradise Retreats (scroll to bottom)
Fee for Residential Students: Please contact us to be placed on waiting list. 
Fee for Kama'aina Students: $475. Includes hearty lunches on Mon – Fri. Please contact us to check if space is available.