Date: May 30, 2015
Time: 6:30 pm - 8:00 pm
Location: Elfin Forest Qigong Studio
Elfin Forest, Escondido, CA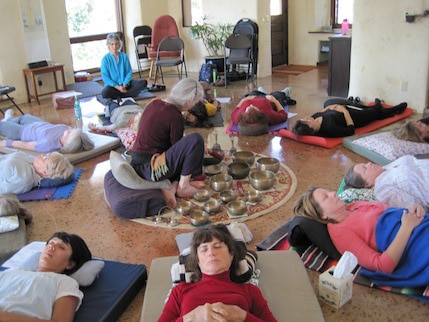 This Event is Sold Out
Please subsribe to our Newsletter to be notified of future events – thank you!
"Hi Martha & Susan! I just wanted to thank you again for the amazing experience on Saturday evening.  My husband and I really enjoyed the "bowl bath."  We have discussed and relived the experience many times since then—-savoring the moment.  It was not our first experience—but it was the best! " H & D, San Deigo
$22 in advance, $25 at the door. RSVP required. Early sign up recommended to save your spot.
Directions sent upon registration. Bring mat/blanket and pillow.
For more information about Susan's offerings please visit:  Phoenix Song Energetics.
Susan Murray and Martha have collaborated for many years to offer sessions combining the healing power of the Himalayan Singing Bowls and Qigong meditation. The sounds of the bowls combined with Qigong meditation and visualizations create an expanded space for experiencing and integrating healing on the physical, mental, emotional and spiritual level. People often notice lasting feelings of calmness, joy and compassion.
"Hi Martha, I wanted to say Mahalo for the healing session on Saturday evening. I can tell you that afterwards, I was very elated; and by Sunday, I felt so good and I have to attribute that to the experience with you and Susan. I really haven't felt as good internally and emotionally since I can remember. Thank you for teaching me how to relax and showing my body that I can achieve relaxation and I feel a bit of that more than I have for so long- maybe ever. I can't wait to feel more of this! Your meditation with singing bowls is such a powerful and lasting experience, Thank you! S. E., San Diego"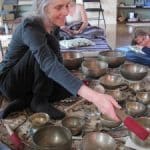 The singing bowls are ancient instruments that originated in the pre-Buddhist shamanic Bon culture of the Himalayas and were later incorporated into esoteric Tibetan Buddhist healing practices. These sacred instruments were mindfully created to produce complex harmonics that have a deeply soothing effect on the listener, stopping internal dialog, awakening cellular memory and healing the energy body as brain waves slow and balance in response to their tones. Please visit Susan's website  for information on individual sessions and other Sacred Sound Singing Bowls events.