Date: December 1, 2018 - December 2, 2018
Time: 10:00 am - 4:00 pm
Location: Dolphin Bay House
Kahauloa Street, Captain Cook, HI 96704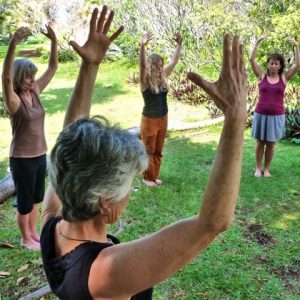 We are delighted and eager to be returning to Hawaii to gather with our qigong friends. You are invited to join us for the Healing with Nature 2-day workshop.
We will explore how qigong deepens our connection to nature which promotes healing on a personal and global level.
Deeply nourishing qigong practices will strengthen our connection to the universal energy (qi) field, supporting wholeness and harmony. 
Find relaxation and renewal through guided meditation, breathing exercises and mindful qigong movement.
Everyone welcome. No prior experience needed.
Each day will include: 
Effective qigong practices to promote health and creativity  
 Discussions on Qigong Oneness Theory
 Group healing methods 
Space limited to 10 participants. We will meet in a beautiful private home near Manini Beach.
Fee: $150 prior to Nov 15, $165 after. Please register below. You will be directed to PayPal where you can choose PayPal, debit or credit card.
RSVP
Reservations are closed for this event.